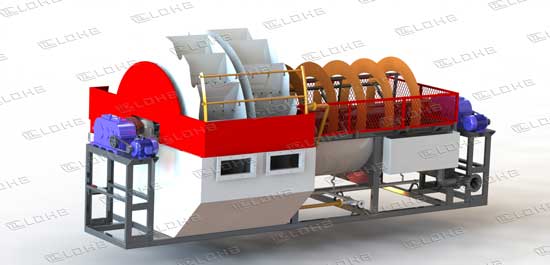 Sand Mobile wash plant is suitable for washing, classifying and removing impurities in metallurgy, building materials, hydropower and other industries. It is used for the cleaning of fine and coarse-grained materials. Spiral sand washing machine and vibrating screen with fine sand recovery machine, according to the material for you to customize, can meet the various needs of different customers for finished products. The fine sand washing mobile station of spiral sand washing machine truly provides customers with simple and low-cost project operation hardware facilities.
LDHB sand washing mobile station of screw sand washing machine can be loaded and stopped at any time, which is convenient and efficient. One equipment can be used in many places. If customers need to replace the corresponding spare parts to meet the material conditions in different regions, we will be on standby 24 hours after sales to provide you with intimate service. The sand washing mobile station of screw sand washing machine has excellent screening and recovery performance, which is suitable for all kinds of materials. The materials enter the vibrating screening through the circular vibrating screen from the feeder, and then wash by the spiral sand washer. The materials enter the fine sand recovery machine for dehydration and recovery. Finally, the whole process of material screening, recovery and dehydration is achieved.
Leave Us A Comment Here
Please write down your requirement and contact details in the following form. You can also send a message to us by this sales@lyldkj.com, we will reply to you within 24 hours.