There are many accessories in the fine sand recovery machine, such as vibration motor, polyurethane screen plate, hydrocyclone, slurry pump, etc. The hydrocyclone is very important among these parts. Cyclone separator is also called sediment separator, which has the function of slurry concentration and liquid clarification. It is mainly used in the classification, separation, concentration and desilting in the mineral processing industry.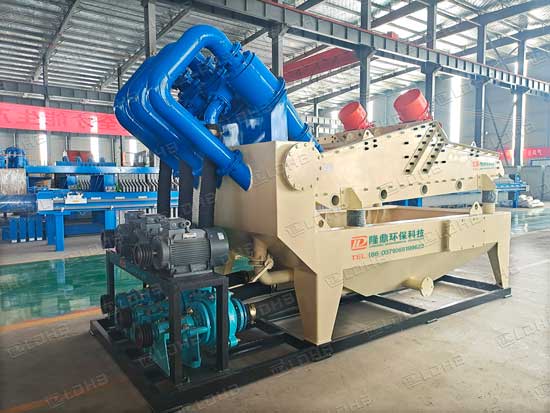 Hydrocyclone is a kind of classification equipment which uses centrifugal force to accelerate the settlement of ore particles. It has two types: component type and gravity type, and it is usually made of cylinder structure or metal pipe. It is necessary to use the sand washing machine dehydration screen together for sand and stone cleaning and mud dewatering, with large processing capacity and high classification efficiency.
The principle of hydrocyclone applied to fines recovery units
When the mixture to be separated enters the hydrocyclone with certain pressure from the feed port of the hydrocyclone, the three-dimensional elliptic shear turbulence with strong production is produced. Because of the different density of particles, the force is different, and the centrifugal settlement is used to discharge most coarse particles through the bottom flow port of the hydrocyclone, while most of the fine particles are discharged from overflow pipe, so as to achieve the purpose of separation and classification.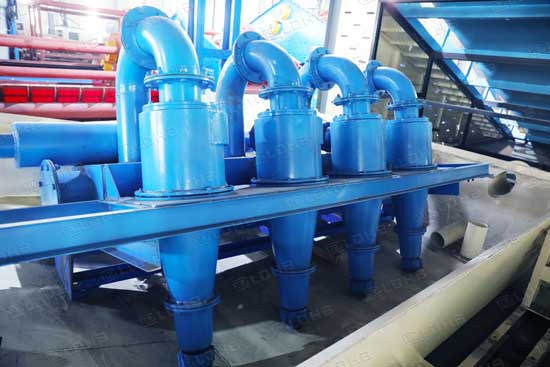 LDHB as a major sand washer manufacturer, which produced the cyclone fine sand recovery machine has the advantages of large processing capacity and fine grading particle size. It is widely used in the fields of pile driving mud desanding, fine sand recovery, mine dry discharge and slurry dewatering. Our technicians can provide one-stop service such as technology, installation and commissioning. Welcome to leave a message for consultation.
Leave Us A Comment Here
Please write down your requirement and contact details in the following form. You can also send a message to us by this sales@lyldkj.com, we will reply to you within 24 hours.