Sludge dewatering screen is suitable for river and lake desilting, sewage pretreatment, slag dewatering, mud treatment, construction mud, drilling mud dewatering and biochemical tank sewage treatment. Its structure includes slurry pump, dewatering screen, cyclone and power supply system. The single machine can achieve the effect of classification, washing and dehydration at the same time, which reduces the investment and operation cost.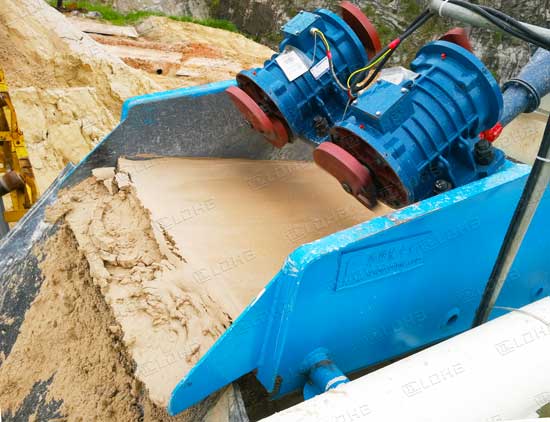 LDHB high frequency sludge dewatering screen uses a special slurry pump to pump sewage to the screen surface of the dewatering screen. Large grains of sand and debris are screened out through a large aperture polyurethane screen plate. The slurry under the screen is concentrated by a cyclone and transported to the fine hole screen surface to dehydrate most of the fine sand. Spray device can be added to the system to achieve three effects of cleaning, grading and dehydration.
The screen mesh is made of ultra-high molecular material polyurethane, which is wear-resistant. The particle size of the feed is less than 10 mm, which reduces the loss of sand. The screen box is made of stainless steel plate, with thick lifting plate around, which makes the whole equipment more solid and reliable.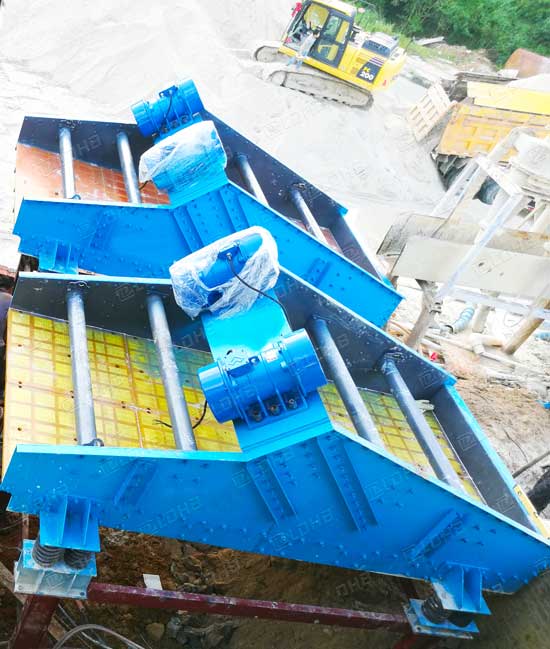 High strength bolts are used at the connection between the vibration motor and the feeding box to make it more tightly connected. The tension spring at the bottom end is vulcanized rubber tension spring, which greatly reduces the noise. The vibration amplitude of the oscillator can be adjusted to achieve stronger drying effect. With the help of screen sand filter tank, the fine sand is intercepted and the inventory is overstocked.
LDHB linear sludge dewatering screen has the advantages of large capacity, good screening efficiency, convenient installation and maintenance.
Leave Us A Comment Here
Please write down your requirement and contact details in the following form. You can also send a message to us by this sales@lyldkj.com, we will reply to you within 24 hours.