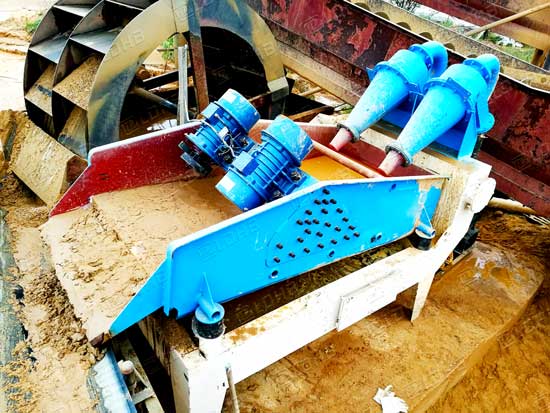 Sand dewatering screen can be used in coal preparation, mineral processing, power generation, sugar making, salt making and other industrial departments for dry and wet screening, dehydration, medium removal and desliming of medium and fine-grained materials. It can be used for dewatering and desliming of medium and fine coal, dry and wet classification desliming of medium and fine materials, and dewatering, desliming and classification of other materials with bulk density less than 1.3.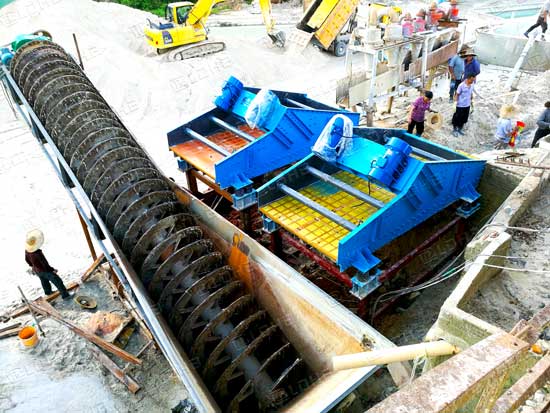 The fine sand recovery unit has more functions than sand dewatering screen, which can recover fine sand less than 0.16mm, effectively solving the problem of fine sand recovery. The appearance of the equipment is not different from that of the sand washing and dewatering screen, but a set of centrifuge cyclone is added. Hydrocyclone is a kind of widely used wet mechanical separation and classification equipment, which can help the dehydration screen to complete liquid clarification, slurry concentration, solid particle washing, liquid degassing and Desanding, solid particle classification and classification, and separation of two immiscible liquids. Generally, it is directly installed at the rear of sand washing and dewatering screen, and a slurry pump is also equipped. The fine sand slurry water drenched on the screen surface is pumped into the cyclone through the high-pressure slurry pump. Under the pressure of 0.3 MPa, the slurry is centrifugally separated to realize the separation of fine sand and slurry. The fine sand falls onto the screen surface through the sand blasting port of the cyclone, and the fine sand is successfully recovered. The slurry water discharged from the overflow port of the cyclone is then recycled After treatment, the filter press can meet the discharge standard or be recycled.
To sum up, the difference between the sand washing dewatering screen and the fine sand recovery machine is that the fine sand recovery machine has a cyclone, while the dewatering screen has no cyclone. If your material particles are small and easy to lose fine sand, you can choose the fine sand recovery machine for recycling or according to your needs.
Leave Us A Comment Here
Please write down your requirement and contact details in the following form. You can also send a message to us by this sales@lyldkj.com, we will reply to you within 24 hours.