In the process of production and operation of the sand washing line, the sand washing machine discharges a large number of sand water mixtures. The traditional sand washing equipments does not meet the current needs of the mine. The waste water produced by the sand washing machine contains a large number of fine sand, soil and other impurities. The loss of these fine sand not only causes the loss of economic benefits of the sand factory, but also causes pollution when the waste water is discharged into the river. In view of this phenomenon, the existing sand washing machine in the international market cannot In response, especially in the Philippines, the customer's eyes turn to the new design sand gravel washing plant.

LDHB new design of spray wheel gravel sand washer
The equipment is a new type of spray wheel type sand washing machine independently developed by LDHB . It is a new type of wheel bucket sand washing equipment that can be used in combination with sand making machine or fine sand recovery machine. Based on the original XSD series impeller sand washer, the added spray device can use less water washing to remove the trace stone powder and impurities in the mixed sand produced by sand making machine and improve the quality of sand.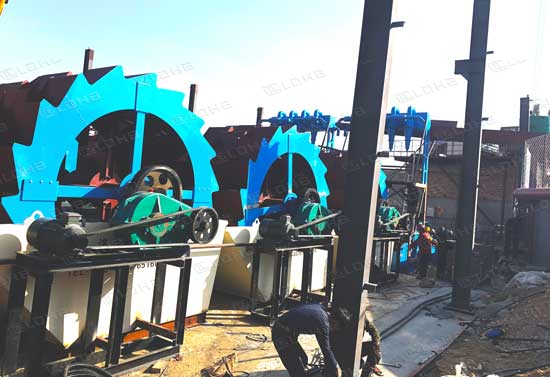 In addition, three protective baffles are added on the top of the cleaning water tank, which not only strengthen the protection and prevent the environment from being polluted by the splashing of sand and stone sewage, but also prevent the splashing corrosion of sewage to the reducer and motor in long-term use, effectively improving the service life of important parts of the equipment. It is an important equipment to complete the washing operation of machine-made sand and natural sand. This series of sand washing machine is developed in combination with the actual situation of domestic sand industry. It is mainly used for washing, grading and dehydration of quartz sand and pressure sand for oil well backfilling in construction site, sand factory, concrete prefabrication factory of hydropower station, glass factory.
Combined with LDHB fine sand recycling machine, it can not only clean fine sand, but also recycle fine sand, with high recovery rate. Without the loss of fine sand, there will be no groundwater pollution and soil desertification caused by the loss of fine sand. In practical application, the sand washing machine can extract and recover more than 85% of the washed fine sand or ore from the original discharged waste water without additional water consumption. It can be directly mixed into the finished product pile or stored separately as high-level materials for use, and directly recover more than 15% of the comprehensive economic benefits for customers.
Leave Us A Comment Here
Please write down your requirement and contact details in the following form. You can also send a message to us by this sales@lyldkj.com, we will reply to you within 24 hours.