Silica sand, also known as quartz sand, is a hard, wear-resistant and chemically stable silicate mineral. Silica sand production line equipment can be used for aggregate and artificial sand making of silica sand and other materials, with high degree of automation, high crushing rate, energy saving, large output, less pollution and simple maintenance.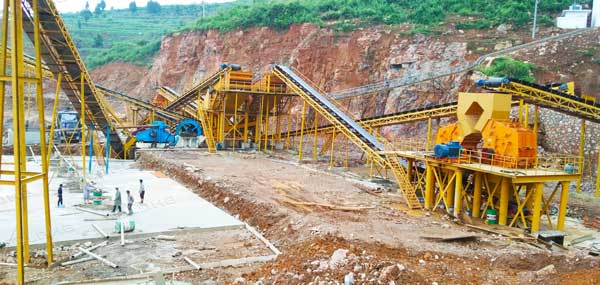 Silica sand manufacturing process
The coarse material is transported to the cone crusher by the conveyor for secondary crushing. The fine crushed silica is sieved by vibrating screen and two kinds of stones are screened out. The material that meets the feed size can be shaped by sand machine, but the material that does not meet the feed size of sand machine can be broken again to meet the particle size requirements. After magnetic separation, the silica sand that meets the specifications enters the cleaning water tank of the sand washing and recovery integrated machine. The sand washing wheel bucket rotates, and the materials in the cleaning box are stirred for cleaning operation. The impurities covered on the surface of the materials can be removed.
After cleaning, the coarse-grained materials are sent to the dewatering screen by the sand bailing wheel for dehydration. The tail water is pumped into the separator by the slurry pump, and the sediment is separated by the separator. After recovery, the fine material is discharged to the screen surface of the dewatering screen and the coarse material is evenly mixed and discharged after dehydration. At the same time, the slurry suspended solids treated by the separator are discharged into the sewage pool, and then the tail water is pumped from the sewage pool into the concentration tank for slurry separation. The concentrated mud is pumped into the plate and frame filter press through the bottom of the filter tank to realize dry stacking. After pressure filtration, the clean water enters the clean water tank to realize the recycling of clean water.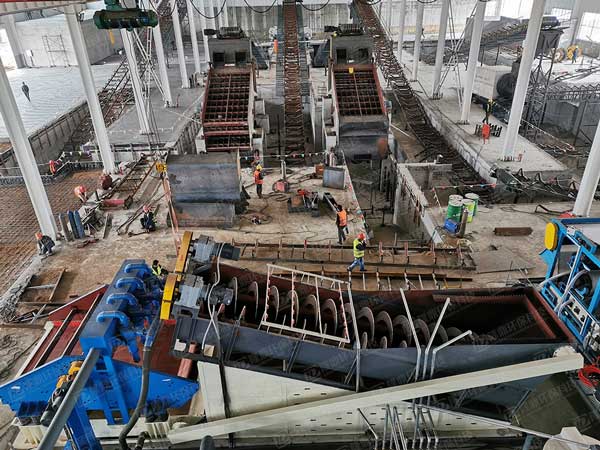 Advantages of silica sand production line
High production capacity, silica sand production line can produce finished products in unit time and high output, which is conducive to further sales or deep processing for users;
The finished sand washing product is good, with high gloss and grain size, and great market demand.
This production line has the advantages of reasonable equipment matching, small floor area and high investment and economic benefits.
LDHB is a modern company specializing in the production of sand screening equipment. It mainly produces sand screening machine, sand washing machine, mobile crushing station,  sand washing crushing equipment and other series. It can provide you with high-quality silica sand treatment process equipment. LDHB is a mineral sand equipment manufacturer integrating scientific research and development, engineering design, production and installation, commissioning and maintenance services. If you have other problems related to silica sand treatment process, you can leave a message for consultation. We will provide you with professional answers and equipment quotation.