Sludge purification system is a small-scale cleaning system for treating non-excavation mud, is a special equipment for construction piling that is independently developed for the current high environmental protection requirements and urban construction needs. It is mainly used for the recycling and reusing of piling mud in urban construction, which can improve the efficiency of construction faster and better, and belongs to environmentally-friendly high-tech products. As a domestic first-class mud purification and circulation treatment manufacturing enterprise, Longding shoulders the important task of making major improvements in the field of piling mud purification and environmental protection. After repeated research and experimentation, the piling mud purification system has finally developed. At present, the system has been tested on the ground by relevant construction units at home and abroad and greatly improved the efficiency. And got extremely high satisfaction, is the first choice for the current urban construction piling mud recycling treatment.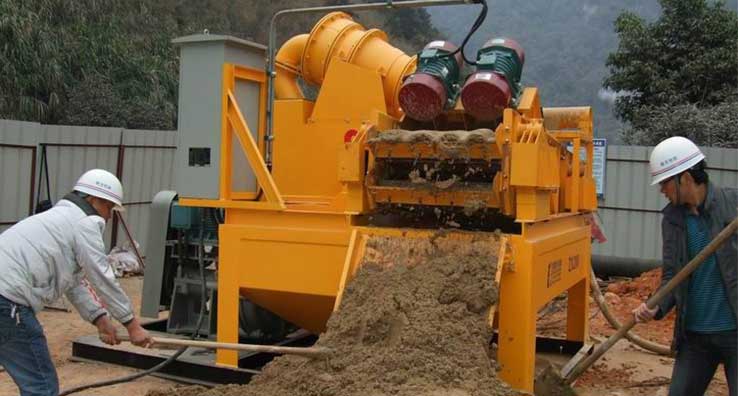 Main equipment
2. Hydrocyclone separator+separator bracket
3. Slurry pump+motor
4. Internal piping and other accessories
5. Thickener
6. Filter press
How is sludge treated?
Piling mud enters the underground mud pool, then pumped onto the lower screen of mud treatment machine by vertical pump. The screen mesh is 5mm, and the particles larger than 5mm are directly dehydrated and discharged from the discharge port. The part of less than 5mm enters the lower water tank, and then is pumped into the hydrocyclone separator through the slurry pump. Then fed onto the upper sieve plate of vibrating screen to produce fine sand of less than 5mm. The separator returns to the return tank and flows into the thickener. After the flocculated sludge is extracted by slurry pump to filter press, then is filtered by filter press to form a mud cake. At the same time, the thickener overflows the clean water, and the clean water filtered by filter press is returned to the clear water transfer tank, thereby realizing the fines recovery and efficiency enhancement, the solid waste dry discharge treatment and the repeated reuse of water resources.
Advantages
1. Low investment, small footprint, and can reduce damage to equipment components and extend equipment life.
2. Reasonable process, the fluid basically adopts gravity self-flow mode to reduce the use of pump. The power of the whole machine is small, energy saving and environmental protection, and the treated water and mud can meet the national environmental protection requirements.
3. Structural optimization, overall modular design, free combination, convenient for maintenance and transportation.
4. The internal structure of thickener is designed according to the principle of fluid dynamics, taking full account of turbulent flow, sedimentation and other factors. In the case of the same amount of processing, the volume is smaller and the amount of flocculating agent is more economical.